Want a more exciting elytra glider? These elytra models will change up your game. Either for roleplay toy story, being small, be part phantom or dragon. It's fun to change things up. Now added The Super Pack that adds in hero and villain style elytra models, and added 9 new elytra models. The Animals and Creatures Pack adds in 19 more elytra models where you turn into the animal or creature you choose.
You can now download each individual elytra model


Animals & Creatures Pack
Monarch Butterfly:
Blue Morpho Butterfly:
Firefly:
Bee:
Chicken:
Dragonfly:
Bat:
Vex:
Ghast:
Blue Parrot:
Green Parrot:
Red Parrot:
Silver Parrot:
Light Blue Parrot:
Phantom:
Dragon:
Elytra Models 5.1
Added a non-small variant to the fairy wings, bee wings, both butterfly wings, dragonfly wings, and the vex wings
Pegasus:
Unicorn:
Blue Morpho Butterfly wings:
Dragonfly Wings:
Millennium Falcon:
TIE Fighter:
X-Wing:
Vex:
Ornithopter:
Dragon Wings (Bone):
Demon Wings (Bone):
Butterfly:
Broomstick:
Silver Surfers Board:
Fairy Wings:
Fallen Angel Wings:
ODM Gear:
The Vulture's Wings:
Bee Wings:
E.T. Bike:
Jetpack:
Demon Wings:
Bat Cape:
Alien Ship:
Angel Wings:
Paper Plane:
Phantom Wings:
Dragon Wings:
Buzz Lightyear Wings:
The Big One Firework Rocket:
Super Pack
Capes:
Bat Cape:
Falcon's Wings:
Green Goblin's Glider:
Iron-Man's Arc reactor and blasters:
Silver Surfer's Board:
Vultures Wings:
Scarlet Witch's flying effects:
To switch between different Elytras you'd need to press this gear.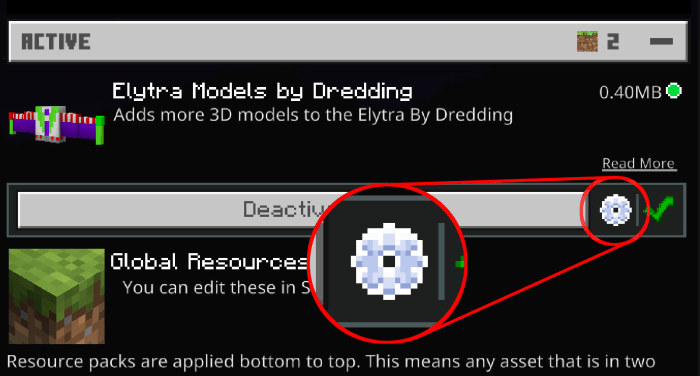 Then use the slider to switch through the options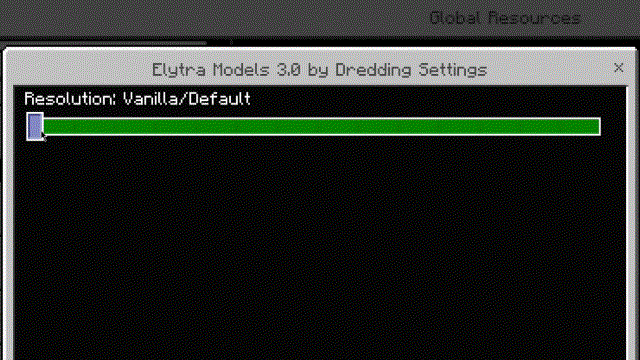 How to install Elytra Pro (Addon)
Installing the mod on Elytra Pro (.mcpack):
Download the mod files marked .mpack from the links below.
Just open the files and the game will automatically install everything you need.
Launch Minecraft and go to edit the world.
Select Texture Sets.
Find the texture pack and activate it.
Select Presets.
Find the extension and activate it.
The mod is installed, enjoy the game!
Latest version: v3 Compatibility: Android / IOS / Windows 10 / Xbox One